The Family of George Winfield William Johnson, of Rotherham and Chesterfield
George Winfield William Johnson was born on 30 April 1888, at Lower Somercotes, Derbys., a son of George Johnson and Elizabeth West (formerly Baines), who married on 31 October 1880 at the Birchwood Chapel, Somercotes.
The name Winfield is an uncommon one and is due to a connection with the Winfield Hawksleys of South Wingfield, Derbys. GWW's paternal grandmother was Elizabeth Hawksley who was born in South Wingfield, a daughter of George and Sarah Hawksley, despite the name of her father as Charles in the record of her marriage. There are two Winfield Hawksleys baptised at South Wingfield: a son of George and Sarah, baptised 14 July 1822 and a son of James and Elizabeth, baptised 6 March 1843.
<![if !vml]>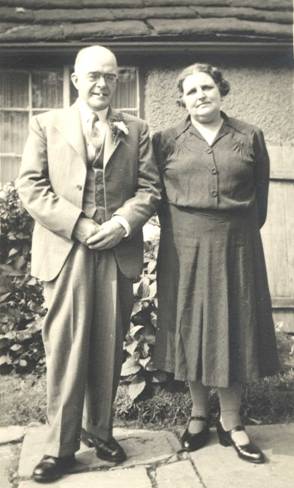 <![endif]>George W.W. married Elsie Elizabeth Asbery, a daughter of John Asbery and Hannah Elizabeth (formerly Vollans) at Kimberworth parish church, 21 January 1909. John Asbury was a grocer who had a shop and bakery in Kimberworth Road, not far from Regent Street. George W.W. was a railway wagon builder.
He and his wife lived at 38 Cavendish Road, Masborough, Rotherham, until the move to Chesterfield in 1915. The family lodged in Scarsdale Road before settling first at 7 and then at 34, Mountcastle Street. In about 1938, the family moved to 43, Dunston Lane, Newbold.
In the 1939 register, George W.W. Johnson was living at 43 Dunston Lane, Newbold , Chesterfield.  He was a wagon builder and repairer, and an ARP warden and born 30 April 1888.  His wife, Elsie E. was born 28 June 1888 and her work was 'unpaid domestic'.  With them were Kenneth who was a turret lathe operator and an ARP warden (works duties St John's Avenue), born 30 December 1918 and William, an apprentice chemist and ARP warden, born 9 November 1920. 
In retirement, perhaps in the winter of 1952/3 he and Elsie moved to Brockwell Lane, Cutthorpe, to a row of three terraced cottages. He and Elsie lived in the one by the Lane and the other two he rented out. After he sold them, the three cottages were converted into a single property now known as Abbey Croft.
In 2008, a book 'Be a Man Mrs Fisher' by Roger Webb was published.  He was a son of the tenants who lived in the cottage at the other end of the row.  In the book he describes a number of unpleasant pranks which he played on George and Elsie and describes them as very closely resembling the television characters Alf and Elsie Garnet (Till Death Us Do Part).  There certainly was a superficial physical resemblance, but GWW was never boorish; neither coarse nor vulgar as described by Mr. Webb.  George could be plain-spoken, as working class men often were, and liked to make his points, but he was very hard-working and was a caring family man who liked to be involved in the community. 
Elsie died 6 January 1958. George W.W. then married Mary Alice Banner at Chesterfield Register Office, in the autumn of 1961, continuing to live at Brockwell Lane, Cutthorpe until the move to Highlightley Farm, Barlow, so that Alice could continue as housekeeper for Miss Wilson. George W.W. died 23 July 1966 and is buried, with his first wife in the churchyard of St John the Evangelist, Newbold. Alice died 11 September 1974, aged 62. At the time she was living at 20 Pembroke Court, St John's Road, Newbold. She was cremated at Brimington Crematorium.
Most of George W.W.'s working life was spent as a vehicle builder. It is thought that he began his working life in the joiner's shop at a colliery (his mother would not let him work underground because of his father's accident). He is recorded as a wagon builder when he married (1909). In Chesterfield, he worked first with Chatsworth Wagon Works on Whittington Moor, then with W.H. Davies (Wagon Works at Langwith Junction) and finally with The Derbyshire Carriage and Wagon Co. Ltd. He not only built ordinary wagons but other specialist vehicles, such as low loaders. He also undertook private carpentry work such as making gates, and erecting fencing for the School and Church in Newbold. He had his own properly printed invoice forms on which Elsie sent out bills to his customers. It is thought that he did his own private work when he was working short-time or when unemployed as well as in the evenings or at weekends. He was a past President and Secretary for about 20 years of the Amalgamated Engineering Union (A.E.U.). He was a great supporter of the Union and of the Labour Party until he felt that politics was beginning to have too great an influence on what was happening in the work-place. During his time in Newbold he had an active association with St John's Church, where he had been a member of the Parochial Church Council and a sidesman for upwards of 20 years.
This picture of George Winfield William Johnson and Elsie Elizabeth was taken in 1944.
George W.W. and Elsie's children were:
<![if !supportLists]>1. <![endif]>George, born 1909 and died 1977.
<![if !supportLists]>2. <![endif]>Mary Kathleen, born 1911 and died 2003.
<![if !supportLists]>3. <![endif]>Irene, born 1912 and died 1913.
<![if !supportLists]>4. <![endif]>Norman, born 1914 and died 1915.
<![if !supportLists]>5. <![endif]>Joseph Arthur, born 1915 and died 1919.
<![if !supportLists]>6. <![endif]>Kenneth, born 1918 and died 2003.
<![if !supportLists]>7. <![endif]>William, born 1920 and died 2010.
Posted October 2016