The Family of Mary Kathleen

Adey

formerly Johnson (1911 – 2003) of Rotherham and Chesterfield
<![if !vml]>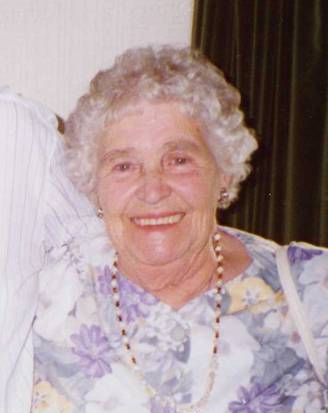 <![endif]>This picture was taken in 1994.
The family called her Mary but her friends and neighbours called her Kath.  Mary was born 3 February 1911, presumably at 38, Cavendish Road, Masborough, Rotherham, and was baptised 9th March 1911 at Kimberworth Parish Church (address given in the register as above).  She was a daughter of George Winfield William Johnson and Elsie Elizabeth formerly Asbery.
In 1911 she was living with her parents aged 2 months and born at Rotherham.
After the family's move to Chesterfield in 1915, she was educated at the school in Edmund Street (parallel with Mountcastle Street), where Dorothy Charles (later the wife of George Johnson) was a couple of classes lower down).
Mary Kathleen, the only daughter of Mr and Mrs GWW Johnson of Mountcastle Street, married John (known as Jack) James Adey (birth registered in the March quarter 1907 in the Chesterfield district), a fitter at Glapwell Colliery, 30 April 1932, at St John the Evangelist, Newbold, and then lived at Glapwell before the move to 30 Swaddale Avenue, Chesterfield S41 0SU. 
John James Adey had a sister Nina, birth registered in the September quarter 1912 (mother's maiden surname Hayes) and two brothers, Leonard and William Henry, births registered in the September quarter 1908 and the March quarter 1910 respectively and all in the Chesterfield district.  Their parents were John Thomas Adey and Mary Ellen Hayes who were married in the December quarter 1906 in the Chesterfield district.
In the 1939 register Mary K and John J Adey (Tony was not in the household!) were living at 30 Swaddale Avenue, Chesterfield.  She was an electric cleaner saleswoman Hoover Ltd and private domestic work, born 3 February 1911.  John was a clip repairer (surface, i.e. not underground) at Glapwell Colliery and born 4 December 1906 (or 24 December).
During World War 2 Jack served in the Middle East.
Mary and Jack had an allotment below their garden on the land between the houses in Swaddale Avenue and the railway line.  At one time they kept a Collie dog, called Fortune, in a kennel on the allotment that had to have its vocal chords cut because it barked incessantly.  Mary's husband, Jack, died of a cardiac arrest on 25 March 1962, in Chesterfield Royal Infirmary (registered in the March quarter 1962 in the Chesterfield district, and was aged 55).  He had been an in-patient there but his family was expecting him to be discharged when he died.
Mary spent much of her life in paid employment.  She worked first at Robinsons and Sons in the Antiseptic Department, probably as a lint packer.  Then a long career with Chesterfield Transport followed, as a bus conductress, mostly with a regular driver, Walter Shaw, on the Barlow run.  She became very well known amongst the locals and even transported unofficially, amongst other things, eggs for Ibbotson's for the market.  She left on Saturday 22nd June 1963 (after 22 years and 10 months service) with a letter of commendation for an excellent record.  She then joined the Accounts and General Department of the Post Office on West Bars, Chesterfield.  She was trained for this at Billericay and was so successful that she then went on to train others at Bootle, Lancs.  She was at the AGD for about 15 years.
About 1980 she moved to a bungalow at 6 Bradley Way, Brimington Chesterfield S43 1BW and was a founder member of the Brimington and Hollingwood Women's Institute.  This was later reformed as The Ladies Circle – same time, place and personnel but cheaper as they were able to keep the money they raised for their own use.  Mary was Secretary for most of the time. 
Mary is remembered as a very generous person. 
She moved to Bank Close House, Hasland Road, Hasland, Chesterfield S41 0RZ, a residential care home, 11 June 1998, suffering from dementia.  During her final two years of life she was not able to recognise her son, Tony. 
She died in her sleep at Bank Close House during the night of Thursday 6 March 2003.  She had been ill with pneumonia.  The funeral was at Brimington Crematorium, 14 March 2003.  She was aged 92. 
Mary and Jack's only child was:
John Anthony Adey (1935 – 2017), known as Tony and born 23 August 1935 in the registration sub-district of Shirebrook (registered in the Mansfield district), with the family living probably at Glapwell (the marriage report in the Derbyshire Times stated that that is where they were to live).  He attended Tapton House School and became an inspector for the water board, finding and supervising the repair of leaks.  He was a person who enjoyed outdoor activities, walking and camping and he was a member of the Chesterfield Canal Trust Working Party.  He had an extensive collection of Commonwealth stamps.  He continued to live at 30 Swaddale Avenue after the death of each parent.  Tony died in the afternoon of Friday 17 February 2017 about 2 days after being admitted to Chesterfield Royal Hospital with a urinary tract infection which turned into sepsis.  His funeral was held at Brimington crematorium Monday 6 March 2017.
Posted March 2017